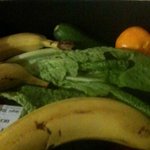 So this is the photo i took with my iPhone 3 and then tweeted.
It is pretty boring pic of the box of veges that was waiting outside my door when I finally got home last night. Having bought myself a new camera – a digital slr – & having enrolled myself in a photography course i'm trying to get out of the habit of snapping photos on my phone.
But it is so easy to grab the phone and snap a selfie or a a quick pic.
The 'library wot employs me' has a flickr account -until fairly recently it was added to often. This year it has been fairly inactive unfortunately.
We take photos at most of our events but for some reason we aren't uploading them to flickr.
If we are taking photos at an event we have a 'you may be photographed' sign which we display and we also have permission forms for people whose photos we take.
I have accounts with flickr & instagram; I occasionally use snapchat but the photo or photo related service i use most is snapfish.
I tend to upload my photos to snapfish so that i can make photobooks with them.
It's strange that i love taking photos but i don't really don't do anything with them once taken.
From a work point of view we could obviously be using flickr a lot more than we do and in a much more ordered fashion (rather than the ad hoc system we employ at the moment)
I think sometimes that we are so focused on social media and the like that we 'forget' that photos are just as good a way to promote events as , say, live tweeting.
perhaps live tweeting with photos is the way to go?